Corey Dalton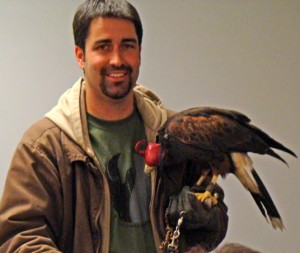 I am a general falconer, and I write (not as often as I'd like) here on Nevada Falconry.
I currently have two Harris hawks, Kit and Tanis. I trapped Kit in 2009 in Arizona. She had two amazing seasons, then last year she broke her leg. After some care (and thanks to the King's Row Vet Hospital) she's ready to hunt again this season.
I have been a falconer since 2007, but my love of raptors started when I was 12 and helped return a baby red-tail to its nest. I co-own Falconry Outfitters, an online store with falconry equipment and apparel.
My apprentice Dustin becomes a general falconer this season. We had a great time trapping and the raptor he's now flying is the best one yet.
I plan to participate in falconry for the rest of my life. To me, there is nothing more exciting than hunting in its purest form. No technology, no guns, just a raptor and the chase for game. I hope you enjoy this website as much as I enjoy puting content on it. Thanks for visiting!